Automatic balancing machine system control process
---
---
Control process
The work process of the automatic balancing machine to implement control, mainly on the workpiece (rotor) unbalance measurement and correction of the two stages of implementation control, to achieve the goal of automatic implementation.Control process flow chart shown in figure 2, measuring clamp clip/loose operations, rotating clip/loose operation, cutter/stop operation of PLC control, and is responsible for the workpiece rotation, feed two stepper motors to drive fast forward/back milling cutter, and is responsible for the work into/out of step motor control signals are given by the stepping motor control card.As can be seen from figure 1, the working process of the automatic balancing machine mainly consists of two steps:
(1) unbalance measurement, signal processing, judge whether the workpiece is qualified, is to print the test report and end, or proceed to step 2;
(2) according to the control strategy to re, and turn to step 1, detect whether the workpiece has reached the standard.
In step 1, the rotation speed and rotation duration of the workpiece are the focus of this step control.Because the rotation speed of the workpiece will affect the measurement accuracy of unbalance and the rotation duration (under certain acceleration), the rotation duration determines the throughput rate of the pipeline.In the process of accelerating the rotation of the workpiece, the measurement signal is analyzed, and once the measurement signal is stable for several cycles, the rotation will be stopped, and other control actions will be executed in parallel during the deceleration process.
In step 2, it is the key to establish the de-weight model, which determines the de-weight time (whether it can be completed in one time) and precision.The coordination and optimization of each step is also a problem that must be considered in the control strategy.
In addition, different kinds of workpiece before the balance of action, calibration operation is also an important part of the control process;The parallel arrangement and optimal coordination of each work step are the guarantee to improve system efficiency and save energy and reduce consumption.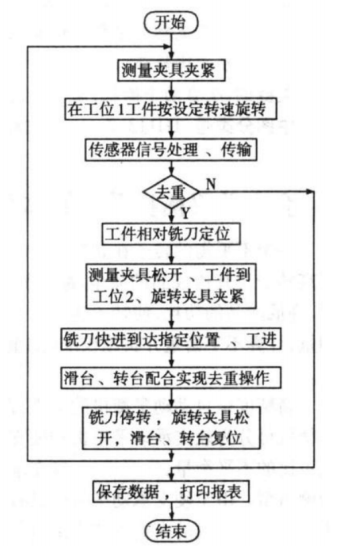 Figure 1 control flow chart
---