What kind of balancing machine should be selected for the disc-shaped workpiece?
---
---
Vertical dynamic balancing machine--refers to the dynamic balancing machine in which the axis of rotation of the balanced rotor is in a vertical state on a dynamic balancing machine. This balancing machine is usually used for disc-shaped workpieces without a supporting shaft, such as high-precision balance. Dynamic balancing correction for various types of disc-shaped workpieces such as household cooling fans, automotive cooling fans, air conditioning cooling fans, vacuum cleaner fans, grinding wheels, brake discs, and saw blades
An unbalanced rotor generates a pressure on its support structure and the rotor itself during its rotation and causes vibration. Therefore, it is very important to balance the rotor of the rotor. The dynamic balancing machine is to correct the rotor dynamic balance when the rotor is rotating.
● Improve the quality of the rotor and the composition of the product
● Reduce noise
● Reduce vibration
● Improve the service life of the support member (bearing)
● Reduce user discomfort
● Reduce the power consumption of the product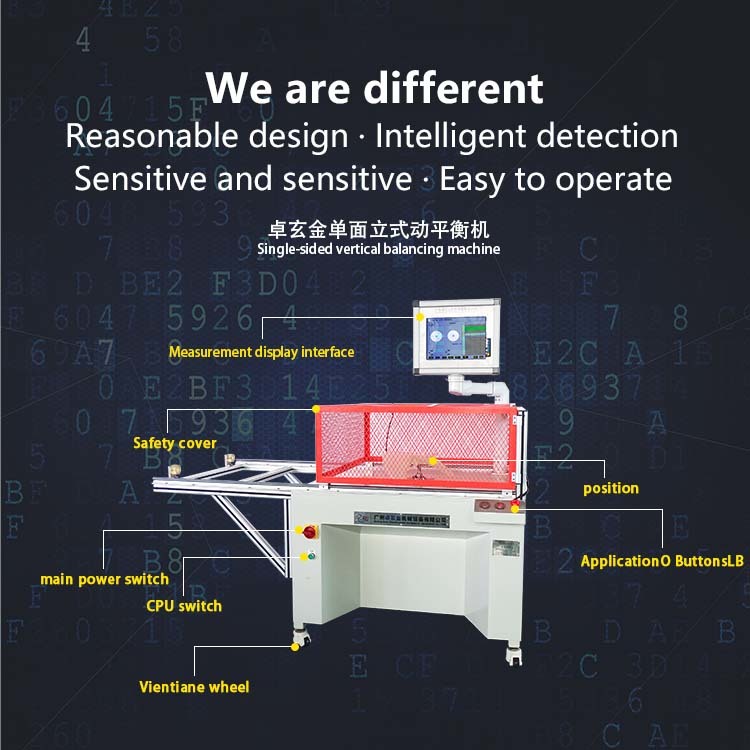 The vertical balancing machine is suitable for household cooling fans, car cooling fans, air conditioning cooling fans, vacuum cleaner fans, grinding wheels, brake discs, saw blades, etc. for rotor dynamic balance detection. The vertical dynamic balancing machine produced by Zhuo Xuanjin has the following advantages:
Transmission structure: Effective transmission of mechanical force, simple and flexible operation;
Detection efficiency: Start to stop within 3-5 seconds, the data is accurate and fast;
Sensing system: high sensitivity, strong sensitivity, high precision, accurate data;
Mode of operation: Optional fixed correction, no need to find the angle; write numbers, etc., the number of slots can be directly balanced detection;
Correction method: Only three steps of correction, speed, magnitude, angle, can be mass-produced, the data is more stable, and the installation effect is more obvious.
Operational benchmark: There is no technical qualification for the operator. As long as the literacy training is available for one hour, it can be used for three days.
---