Guangzhou Zhuo Xuanjin won the certificate of high-tech enterprise
---
---
Recently, Guangzhou Zhuoxuanjin , a domestic manufacturer of dynamic balancing machines, was certified as a high-tech enterprise.
China's high-tech enterprise certification is a special qualification certification established by China to strengthen the comprehensive innovation capabilities of high-tech enterprises with independent research and development as the core, and to promote the development of high-tech industries. The Ministry of Science and Technology, the Ministry of Finance, and the State Administration of Taxation are responsible for the guidance of relevant work Management and supervision, the identification standards are very strict, comprehensively evaluated from four aspects: the core independent intellectual property rights of the enterprise, the transformation ability of scientific and technological achievements, the organization and management level of research and development, and the growth indicators of the enterprise. At the same time, there are clear regulations and explanations for key identification indicators and measurement bases such as research and development and innovation capabilities, scientific and technological personnel, research and development personnel, independent intellectual property rights, and transformation capabilities of scientific and technological achievements. grade evaluation.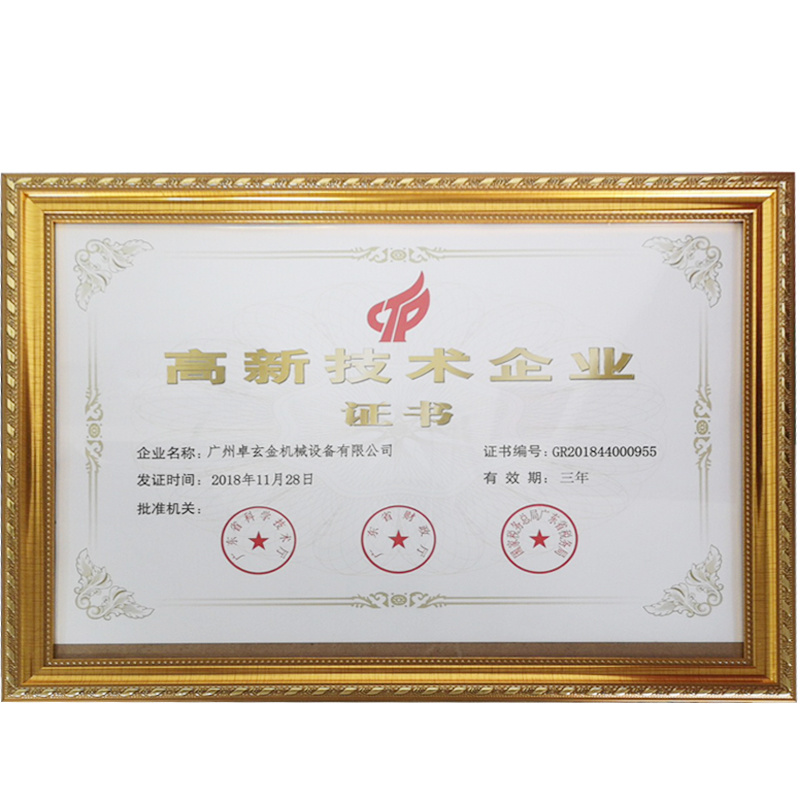 The company's ability to obtain the certification of China's high-tech enterprises is China 's affirmation and encouragement of Zhuoxuanjin 's achievements in dynamic balancing machine technology. Since its establishment, Guangzhou Zhuoxuanjin has paid special attention to the independent research and development of balancing machines and the development path of continuous innovation. Make the enterprise more core value and competitive.

For a long time, the Guangzhou Zhuoxuanjin scientific research team has adhered to the industry requirements based on customer needs and technology, focused on the automatic research and development of dynamic balancing machines, and strived to pay equal attention to service upgrades and technological innovations to provide customers with safe and convenient dynamic balancing services. It is precisely because of the original intention of sticking to the dynamic balancing machine that Guangzhou Zhuoxuanjin has also reaped the fruits of the transformation of scientific and technological achievements.

Guangzhou Zhuoxuanjin will take the high-tech enterprise certification as a new starting point and opportunity, and under the guidance and support of various governments and regulatory departments, adhere to the fundamental concept of technological innovation and development, continue to carry out innovative explorations in the field of dynamic balancing machines, and use Based on strong scientific and technological strength, we will make every effort to promote differentiated and characteristic operations, and constantly introduce new dynamic balancing machine products to make greater contributions to customers who need dynamic balancing machines.
---