Double drive automatic positioning balancing machine for new energy motor
---
---
In recent years, more and more attention has been paid to environmental problems, but the deterioration of the environment has not been improved. The environment we rely on for survival depends on our joint efforts. In order to better protect the earth, more and more motor manufacturers are beginning to realize the need to protect the environment and assume this responsibility. New energy vehicles and electric vehicles have gradually entered our vision and started to be used.
At present, many international car enterprises have launched pure electric vehicles and hybrid versions of traditional models. In this way, each car factory is also very optimistic about new energy vehicles.
Difference between new energy motor and ordinary motor
1. The electric vehicle motor should have a large starting torque, good starting performance and good acceleration performance to meet the requirements of frequent starting and stopping, acceleration and deceleration or climbing of electric vehicles.
2. The constant power range of motor of electric vehicle should be designed to be wide to meet the torque output of electric vehicle at high speed and ensure the maximum speed that the vehicle can achieve;
3. The electric vehicle motor should have good efficiency characteristics. It is generally required to obtain 85%~93% efficiency in the typical driving cycle area to improve the continuous driving mileage after one charge;
4. The overall dimension of electric vehicle motor shall be as small as possible, the weight shall be as light as possible, and the power density shall be optimized;
5. It can work in a harsh environment for a long time, with low noise during operation and convenient maintenance;
6. Whether the motor controller can effectively recover the energy generated by braking.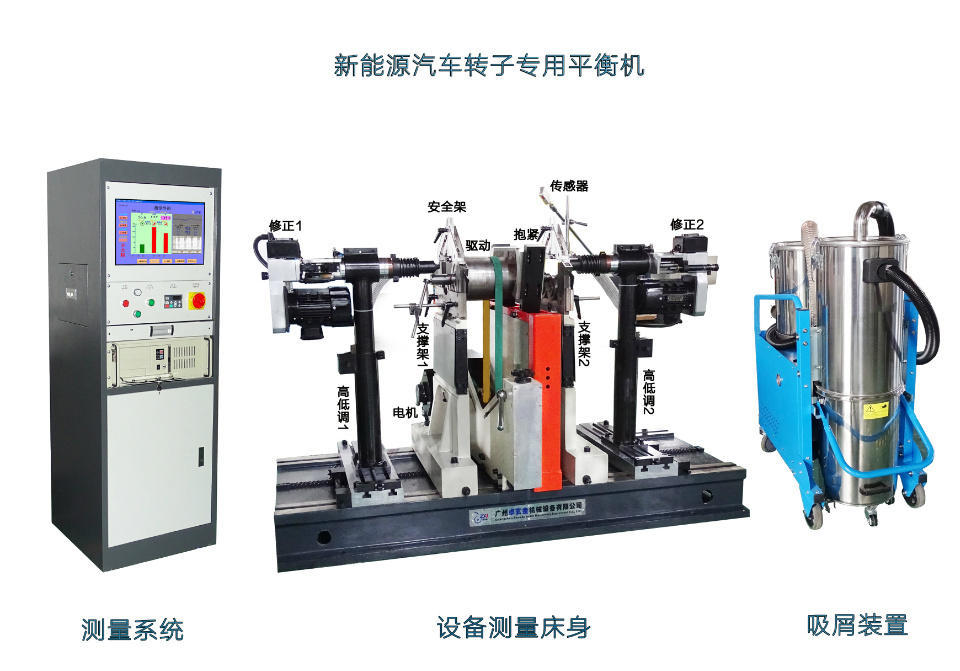 New energy motor balancing machine helps the development of environment-friendly vehicles
Energy and environmental problems are becoming increasingly serious, and the pressure of public opinion is unprecedented. Developing energy-efficient and new energy vehicles is an effective way to solve energy and environmental problems, and also a powerful measure to achieve national ecological civilization.
In consideration of the environment, Guangzhou Zhuo Xuanji has carefully developed and professionally built a new energy motor dynamic balancing machine to meet the needs of larger manufacturers. The dynamic balancing machine of Guangzhou Zhuo Xuan Ji not only has deeper requirements on the rotor balancing technology, but also can save time and unnecessary cumbersome actions to a large extent by installing devices in the addition area at both ends. Improve the quality of products, improve work efficiency, test once, and reduce errors.
---